The automatic winding filter ordered by an environmental protection company in Nanjing was delivered
Equipment name: automatic winding filter
HICLOVER is growing brand for environmental protection field, and market share with most of Africa, Middle East, Southeast Asia countries and part of North America, Europe territory. We are trusted partner for governmental organizations, non-profit organizations, international contractors, logistics organizations, military, pet cremation business owners, etc. We have export experience more than 40 countries, including war zone like Iraq, Afghanistan, Somalia, South Sudan. Mobile: +86-13813931455(WhatsApp) Website: www.hiclover.com Email: sales@hiclover.com Email: hicloversales@gmail.com
Quantity of equipment: 1 set
Equipment air volume: 12000
Shipping Date: June 28, 2022
Automatic winding filter equipment material: 2.0mmt carbon steel paint, control system: automatic and manual control, motor: 380V 100W geared integrated motor, filter material: G3 filter cotton for winding filter, supporting installation accessories.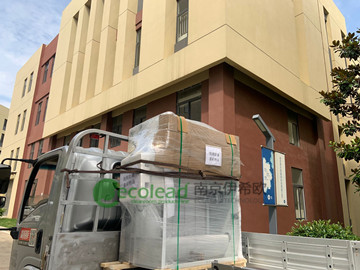 The automatic winding filter is actually a kind of air dust removal equipment with special filter material, which realizes the automation of filter material replacement through a complete set of control system.
The main function:
1) Effectively dispose of indoor air pollution, such as dust, to provide cleaner air;
2) The corresponding standard requirements are met in different grades of clean rooms. If the clean room wants to achieve a certain level of cleanliness, it is necessary to install a primary filter to effectively filter the air entering the room;
3), reduces the participation of replacement personnel, saves labor costs, is concise and saves trouble.