Carbon steel automatic winding filter purchased by an environmental protection company in Shanxi
Equipment name: carbon steel automatic winding filter
HICLOVER is growing brand for environmental protection field, and market share with most of Africa, Middle East, Southeast Asia countries and part of North America, Europe territory. We are trusted partner for governmental organizations, non-profit organizations, international contractors, logistics organizations, military, pet cremation business owners, etc. We have export experience more than 40 countries, including war zone like Iraq, Afghanistan, Somalia, South Sudan. Mobile: +86-13813931455(WhatsApp) Website: www.hiclover.com Email: sales@hiclover.com Email: hicloversales@gmail.com
Number of devices: 1
Shipping Date: May 30, 2022
Product introduction:
Self-winding filtersize:1800W*2400H*550D frame material:2.0mmtCarbon steel painting, control system:Automatic and manual control, reserve passive dry contacts. Motor: 380V 100WSpecial motor for filter,Filter material: special for automatic winding filterG3Filter cotton, matching with rain-proof shutters, installation and fixing accessories, side sealing plates and other accessories.
The automatic winding filter is a new type of filter equipment. It is an air dust removal device that converts the pressure difference before and after passing through the filter into a sensing electrical signal and automatically replaces the filter material.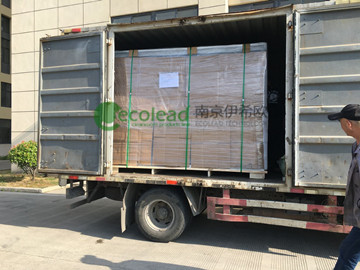 ★Brief
☆ The main material of the frame can be selected from Cold rolled sheet, Al alloy and Stainless Steel.
☆ The overall use of metal structure, strong and reliable, can meet the harshest working environment.
☆ EECO automatic winding filter adopts photoelectric control, which truly realizes the control of rolling shutter filter material.
☆ The photoelectric control adopts a large LCD screen to display the running status, on-site sound and light alarm, and timely remind to replace the new filter material.
And reserve a remote alarm interface for remote control.
☆ Modular assembly, intelligent filter material replacement system, can meet the most complex airflow system requirements, effectively save energy, reduce manpower, and operate more economically.
☆ It is suitable for various ventilation and air intake purification occasions, especially for the air purification effect of low pressure and large air volume air supply system.